<! Left cell - 1 pixel wide >
<! MAIN PAGE>

<! gray >

Automatic sequencing error correction
About sequencing errors and contig ambiguities
There are cases when the assembled chromatograms contain overlapping peaks. The base caller software in the sequencing machine usually resolve these peaks poorly, resulting in ambiguous (IUPAC) or even erroneous bases. Fortunately, the base caller recognizes that there might be problems with those peaks and therefore it assigns them low QV (confidence scores).
Automatic contig ambiguity correction
Manual contig ambiguity correction
The user's hands-on time is minimized by our AMBIGUITY NAVIGATION SYSTEM, that guides the user from ambiguity to ambiguity and allows fast editing of the incorrect base. For more details about the NAVIGATION SYSTEM, click here.
Details about the contig ambiguity correction algorithm
When deciding between two or more bases, the algorithm will chose whichever has the highest confidence score. However, there are cases when the algorithm has to decide between a base and a gap. Since gaps do not have assigned any confidence score, the choice is entirely based on the confidence score of the base. If the confidence score is higher than a preset confidence score threshold (default 25, can be changed by the user), then the base is chosen. However, if the confidence score of the base is lower than the confidence score threshold, then the gap is chosen. For more details about setting the confidence score threshold, click here.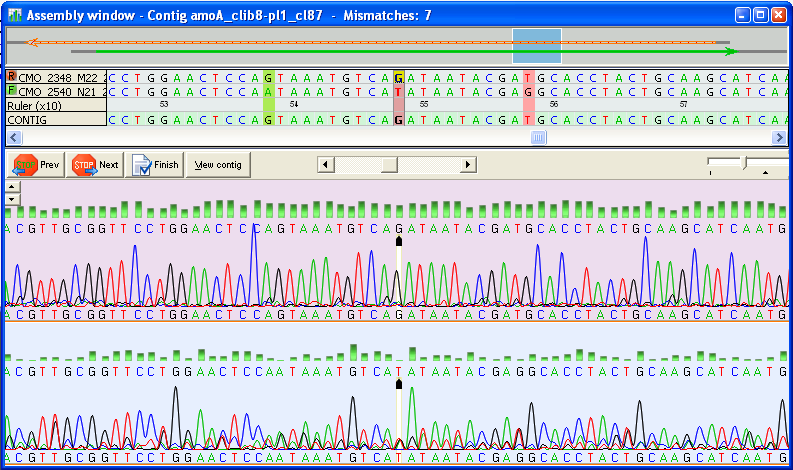 <! Right cell - 1 pixel wide >