<! gray >

DNA Sequence Assembler

Hardware resources needed


What is the minimum hardware for regular sequence assembly?
When assembling few (2 to 30) SCF/ABI samples, the memory requirements are negligible. An ancient Pentium 1 computer with 0.2GB of RAM should be more than enough. Modern computers are sold today with at least 4GB of RAM.
What is the recommended hardware for assembling larger contigs?
For demanding projects, such as assembling multiple large samples or assembling samples to a very large reference file (over 20kb), we recommend a computer with at least 2GB of FREE RAM. Please note that Windows itself will eat some of your memory. Usually Windows XP requires for itself about 0.5GB while Windows 7 requires for itself more than 1GB. All other applications that are currently running (such as email client, web browser, music player, Word, Windows Explorer, antivirus, system tray utilities, graphic applications) will take also memory.
I have plenty of RAM memory. Can DNA Baser use it all?
DNA Baser Assembler is a 32bit application which means that it can use maximum 2GB of RAM.
How do I know how much free RAM do I have?
A tool integrated in DNA Baser shows a detailed memory report updated in real time. You can find it under 'Info -> System information' menu.
I don't have enough RAM. Do I need to purchase a new computer?
No. If you don't have enough RAM you can easily purchase more. It costs about $30 per GB and it can be installed in about 5 minutes. It is highly probable that your computer maintenance department already have some spare memory.
I try to assemble large files and the process takes a while. What should I do?
Please make sure you have at least 2GB of FREE memory before starting the contig assembly.
When the computer doesn't have enough RAM memory, it uses virtual memory which is several thousand times slower. You know that your computer is out of RAM when hard drive's LED blinks intensively (normally it should blink about once per second or less).
Why DNA Baser needs so much RAM when working with large (over 10kb) samples?
DNA Baser uses a proprietary algorithm that has the advantage of being very precise. This allows us to implement several of the unique features that DNA Baser offers (such as batch sequence assembly, automatic end trimming, automatic ambiguity correction, automatic vector detection, etc). The disadvantage of this algorithm is that it needs some extra memory (compared with classic algorithms).
Should I use Windows 64bit instead of Windows 32 bits?
It doesn't make a difference DNA Baser Assembler is you are running on 64 bit to 32. We recommend you Windows 64 bit ONLY if you have MORE than 4GB or RAM.
---
Real-world test
The following test shows the memory requirements.
Test computer
Toshiba Qosmio x505 laptop
CPU: Intel i5
RAM: 4GB installed / 3GB usable
Test files
10 scf files
1 reference file of 16.7kb
Tested version
Results
The total amount of RAM necessary to assemble the files to reference was 0.8GB* (figure 1).
The total time necessary to import the files and assemble them to reference: 29 seconds (figure 2).
Figure 1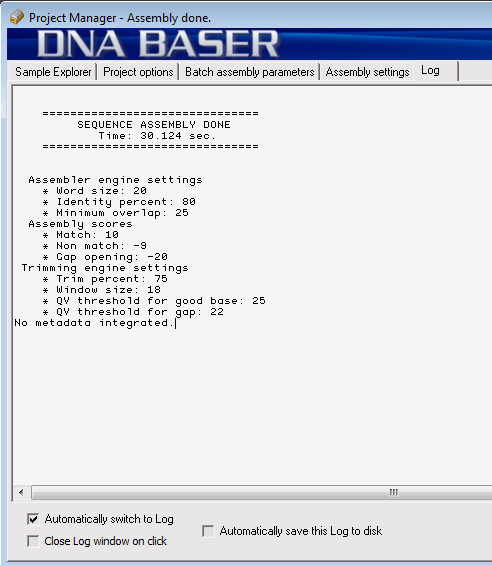 Figure 2

<! Right cell - 1 pixel wide >